The new version of BQool's Repricing Central was officially launched on 16th April. BQool team has been working closely with users to ensure the latest update is packed with features and improvements that will help Amazon sellers achieve repricing success and save more time. If you are interested in learning more, read on to see the new features that come with this update!
Faster Repricing and More Affordable Plans
Accelerated Repricing (15 minutes) is now available starting at the $25 plan. For users who want even faster repricing, Accelerated Plus (5 minutes) is available starting at the $100 plan and above. In addition, one major change in this update is BQool now syncs all your listings from your inventory to BQool repricing list. You are finally able to choose the listings you would like to reprice, giving you greater flexibility than before. Another benefit is that repricing users can save their hard-earned cash on the new pricing plan because price of repricing plan now depends on the number of listings repriced instead of calculating the total number of listings in their inventory as before. Users only pay for the listings that are selected to reprice!
To learn more about Repricing plans, please visit:  Affordable Amazon Repricer Pricing Plans.
More Informative Data
Repricing Central displays your repricing and sales performance metrics, which includes sales rank, Buy Box win %, Buy Box owner, and position on listing page. These information facilitates sellers to make strategic pricing decisions. The Competitor Analysis has also become more informative, where users can learn which seller is in the Buy Box, competitor handling time, expedited shipping status, back-ordered status, and back-ordered date.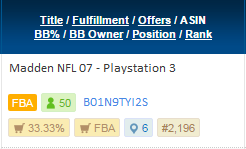 Faster Setup and Listings Management
Users can assign default values, including Min, Max, rule, and cost for new listings. The values will automatically apply on the new downloaded listings to start repricing instantly and save user's' valuable time!  In addition, listings that don't have Min, Max and rule can be easily filtered out by the new options in Bulk Actions.
Expanded rule options
The repricing rule has received a major upgrade with options for repricing directly against the Buy Box price! This feature enables users to target their competitor more precisely. If you are a bookseller, the new options for competing by sub-condition are especially beneficial for you.
For sellers who worry that repricer might decrease your profit margin, BQool has enhanced security measure in this update. The safety net feature prevents one-time drastic price drops and thus, protect your profit margin. And finally, the brand-new scheduler lets users to pause, restart listings, and reset price each day. Now users can raise their price during less competitive hours and automatically rejoin the competition by setting the scheduler.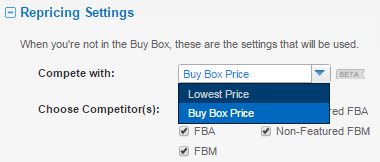 Comprehensive Business Reports
We've added business reports to help users better analyze their repricing performance. There are new reports for Buy Box Win %, Estimated Profit, Compete vs. Amazon, FBA, and FBM %, Lowest Price Win %, and more!
To learn more details of the new features, visit BQool Repricing Central. If you haven't tried out Repricing Central yet, don't miss out on fast and feature-rich repricing! To help kick off the new update, BQool is offering a limited-time 50% off first month discount for new repricing users. Simply enter the coupon code below upon checking out.

BQool is a SaaS company offering great software solutions that help Amazon merchants resolve daily business challenges. The BQool suite so far consists of Repricing, Feedback, and Review Central. To learn more about BQool, please visit https://www.bqool.com/