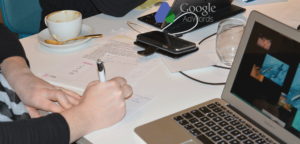 We have recently delivered Google Analytics and Google Adwords training courses in Bristol. These are 4-hour courses, packed with lots of information on how you can improve your digital performance.  Check out full course details below
Google Adwords Training and Google Google Analytics Training
We have been delivering these courses for the past few years and they are written based on a solid background of practical experience, so they include a lot of real-life examples. They can be really good in terms of relating new concepts, and we have had really good feedback from our past attendees.
| Frances Bibby, Social Comms

Prabhat is a very genuine and patient person with a wealth of digital and eCommerce marketing experience and knowledge. I've been to one of his conferences and one of his workshops and each time left having learnt something valuable. His events are educational but also fun and welcoming, a good community to get involved with.

| Michelle Mossford, Ableworld UK Ltd

Myself and my colleague were very lucky to receive one-to-one, structured PPC training. I would recommend him to anyone wanting to know more regarding Online Marketing!
For many, attending a day course can be really challenging to fit into a busy schedule, so our 4-hour course can work really well. It allows you to fit your work and training schedule into one day.  Our digital marketing training courses are delivered to a small group, so you will get plenty of opportunities to ask questions and receive the highest quality training.
At the end of the training, we help you create an action plan for the next few months, so you can go away with a clear idea of what you need to do next.
Just a few of the fantastic organisations who've attended our previous training.