The world of couriers, for both national and international deliveries, is an exceptionally competitive market but as e-tailers we have the chance to make the most of the competitive pricing and special offers.
Parcel Station certainly have some eye-catching offers on their website – Just £4.50 for a tracked & signed parcel to the USA and only £4 for a parcel to France and Germany. They suggest that the USA price might the be cheapest deal out there!   UK pricing is also extremely competitive, due to their large shipping volume they have negotiated very good deals for courier services which small, medium and large retailers then benefit from.
Life is hectic and many of us choose the easy option, to stick with the courier or mail delivery service that we know and trust, but just like the banks, insurance and utility companies it does pay to shop around and consider other options.
When is the last time you did a price comparison for your parcel delivery?
What do Parcel Station have to offer?
To all customers, they offer low cost or economy delivery options and they also deliver to every country in the World. You can book Next Day Delivery for UK and Europe for urgent orders. For added convenience they offer a collection service and they have an integrated system including:
Linnworks, Volo, Brightpearl, Magento, Exact, Shopify, VisualSoft, Zoey, Unleashed, Sellerdynamics, Ebay, Amazon, Groupon
They offer a Parcel shop dropoff and collect service in three locations (Stockport, Stoke and Manchester) where you can purchase packaging or stamps and can drop off your orders or use it as a collection point. This collection service is handy if you aren't available to sign for deliveries during the day or a collection doesn't suit your business.
Integration – saving you time!
What may interest e-tailers the most is the Parcel Station Integration. Once you reach a certain volume of parcels each day integration becomes crucial. They appreciate how important it is to get a delivery label fast and without errors. Their in-house software provides API integration with any warehouse management and ecommerce or order management software packages. See the infographic below: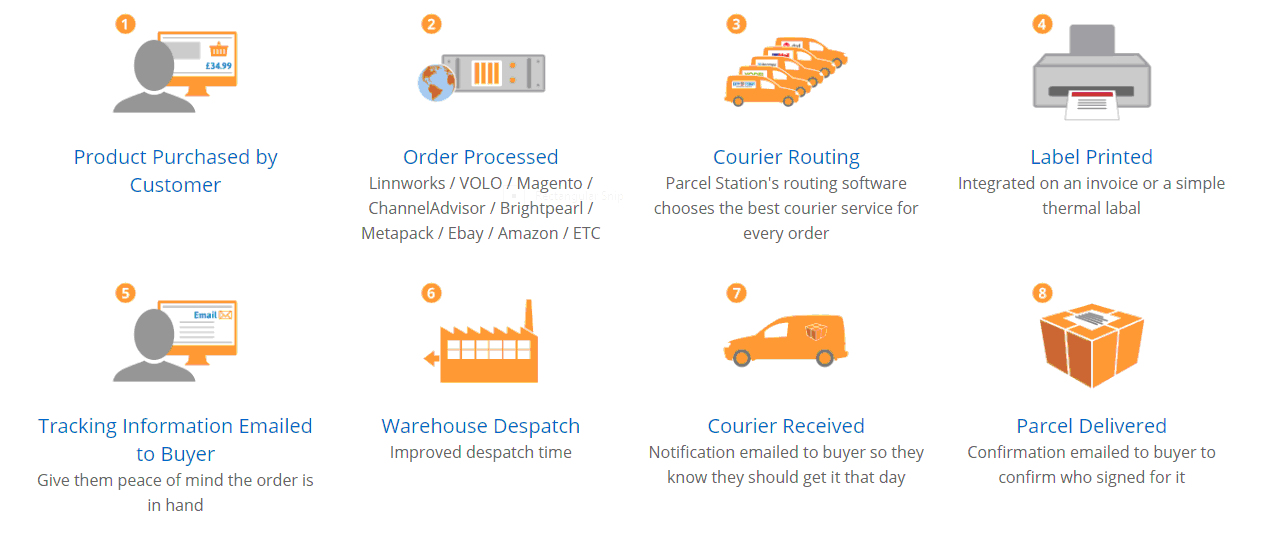 If you've got any queries check out their FAQS or give them a call on 0161 672 1998
Parcel Station www.parcelstation.co.uk