Competitive intelligence is defined as a continuous process of monitoring your market to identify changing forces that can impact your business. These include
✔️ Current and future competitors, – Many sellers know and track their known competitors however they spend less time understanding who the new competition is in the categories they sell in. These sellers are at risk of being disrupted if the new competitor is offering better products, prices or delivery than the existing player
✔️ Current and future competitors activity – Sellers are constantly looking to change their businesses and can improve their products, price, postage and service offerings at any time.
✔️ How their actions will affect you – In monitoring what your competitors are doing you can be faster to react and keep them from taking your sales and market share
✔️ How to respond. – This can be different for every seller and sometimes the best reaction might be to do nothing if you believe your competitor is not invested for the long-term
Competitive intelligence is an increasingly important business operation for online sellers as setting up an online store and getting access to buyer traffic has never been more accessible and affordable
However once set up and selling, it can be difficult for online sellers to start analyzing competitors because intelligence about them is:
1. Hard to Access.- not many sources of competitive intelligence are available to small businesses
2. Expensive – The sources that exist are cost prohibitive for most these businesses
3.Not actionable – The reports that exist are often not detailed enough to act on or they tell a story of what has happened in the past which is now too late to react to
4. Time & resource intensive – It's often a lot of work and may require more staff employed. This can be a deal breaker for business owners as that additional cost could be spent elsewhere.
Trading on eBay is very competitive and this makes competitor intelligence a crucial part of business operations as it is a venue that has low barriers to entry, where almost anyone can set up a business at low cost and scale up quickly with large inventory uploads and/or using paid promotions to drive traffic to themselves faster
Here are some affordable and powerful ShelfTrend reports that help you know more about what is happening with your competition on eBay in real time that is affordable and actionable!
Analyse your competitors fastest selling products
This report is run by seller id and gives a summary of the top selling items per week that they have listed in the last 18 months
https://www.shelftrend.com/competition/research-competition
Checking on your competitors top ranked items
Being seen on eBay is critical as 90% of sales come from page 1 of a buyers search results. This report can be run by keyword or category and summarises which competitors have established top rank and drill into their seller id to find the tips and tricks they use to rank on page 1
https://www.shelftrend.com/know-whats-ranking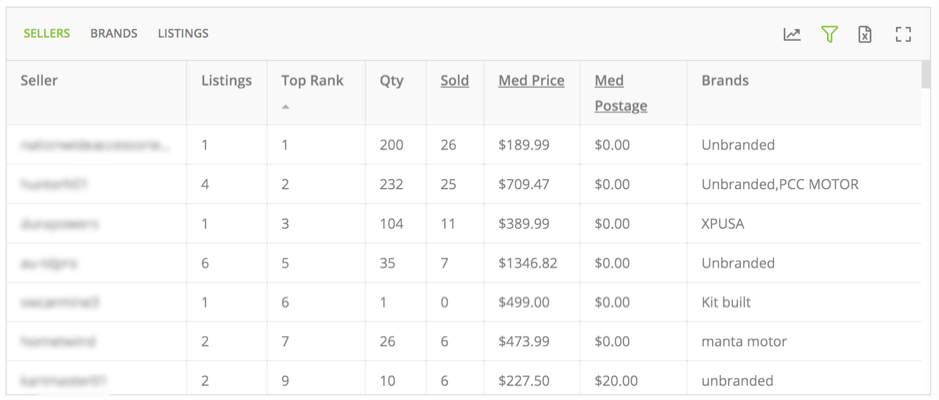 Checking your competitors latest sourcing investments
eBay categories are always changing and new items enter all the time. Todays new listing is an early look at future competition that might trend against your business. It's important to keep an eye out for any potential listings that are able to offer something better than you are selling.
IF you spot something then make a decision on whether it is only a short term threat that you can allow to pass or if it is here to stay for the long term, what is the best way to compete and keep your buyers from leaving your listings.
https://www.shelftrend.com/new-listings-report/what-does-a-threat-look-like
Learning about new categories
Researching competitive a new category is before you enter could save you a lot of time and prevent you wasting money.
If you want to sell mainstream products in a new category you would want to know who the top sellers are right now, what they are selling and how much they have in stock
https://www.shelftrend.com/supply-demand-report/spot-an-opportunity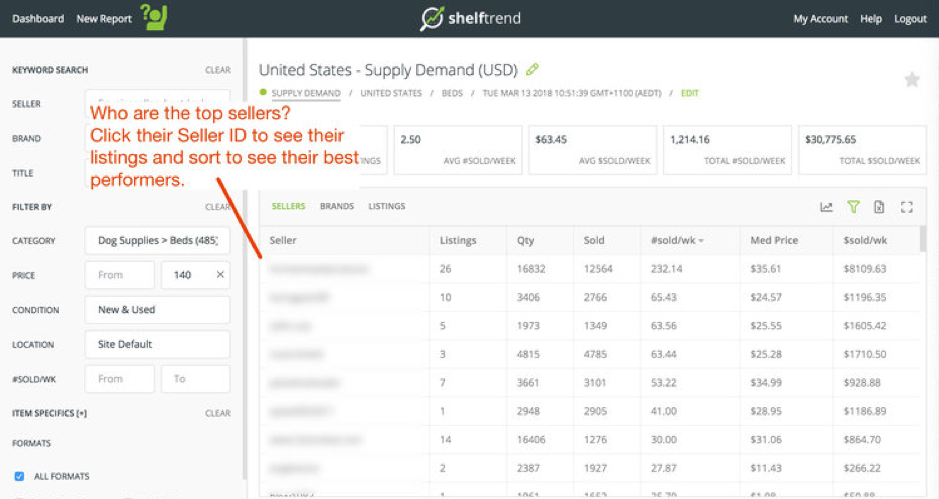 Find potential supply gaps
Next, you need to figure out if there is a niche in the category you would be able to sell successfully in
Using the chart in the Supply Demand graph to quickly see less competitive price brackets and the best performing listings within them. You can click the dots to view the listing.
If eBay is an important sales channel to your business, make sure you are investing in competitive intelligence to feel confident in the decisions that you make to grow sales and revenue.
---
We delivery Professional eBay training in London, Manchester and Nottingham. These are delivered in a small group. Please find out more here >>