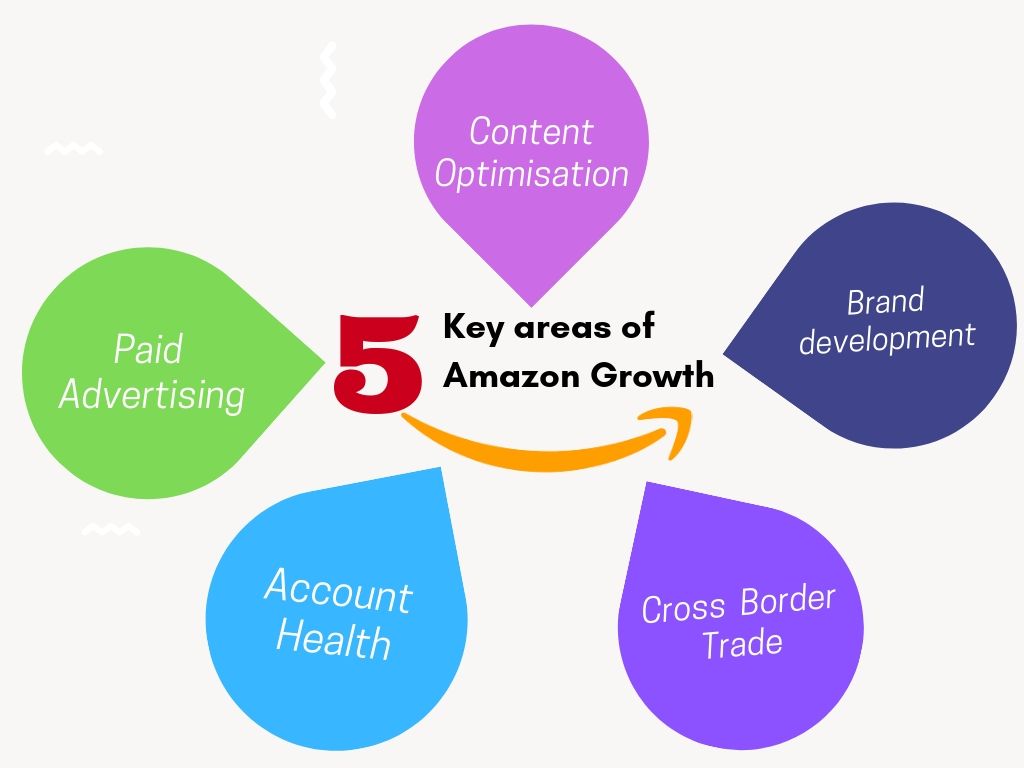 Amazon has certainly changed the online landscape in the last 25 years, with 86% of Brits shopping on Amazon. Additionally, 70% of Amazon shoppers say it is the first retailer they go to when shopping online. 
Which is why Amazon is now not just an option for retailers and sellers, it is a necessity. But it isn't as smooth sailing and simple as just becoming an Amazon Seller. There are many challenges to face, whether you operate as a third-party seller (on Seller Central) or a first-party seller (on Vendor Central). No matter the type of seller you are, there are 5 key areas that any Amazon seller needs to look after.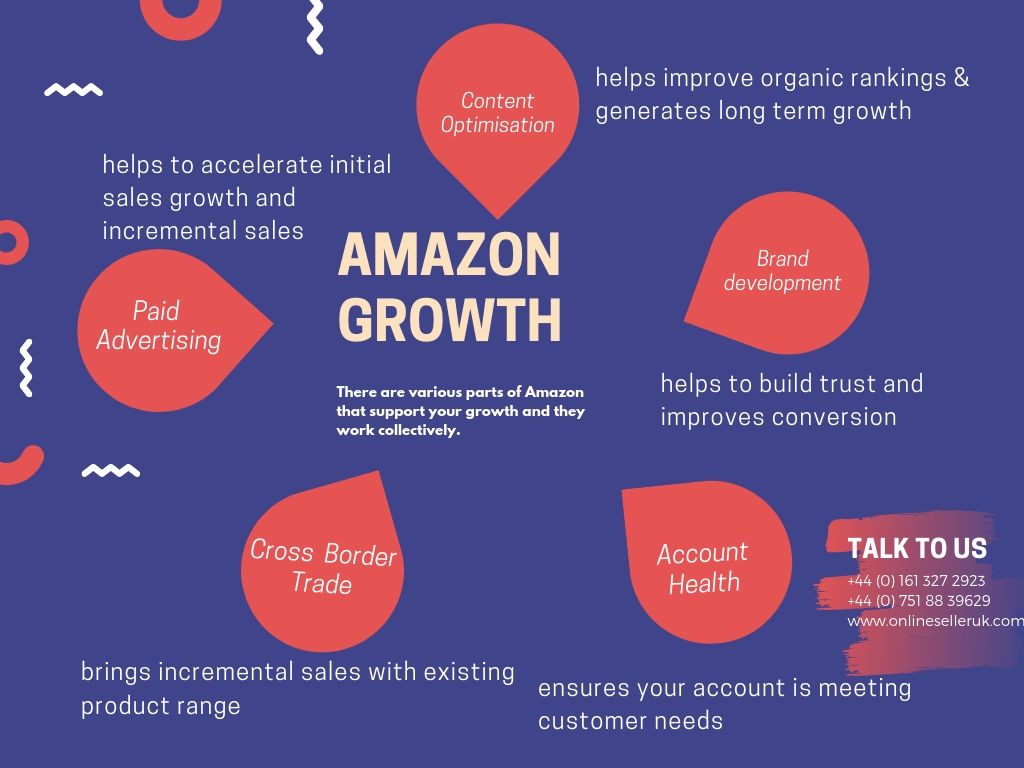 #1 Content Optimisation – this helps to improve organic rankings & generates long term growth. Content carries a lot of weight in terms of success on Amazon as it helps to ensure your products are getting found in search results. Well optimised content then also helps to drive conversions. Check out a complete guide to Amazon SEO & Content Optimisation here. 
#2 Paid Advertising – helps to accelerate initial sales growth and incremental sales. Advertising works wonders when you are starting out, and then continually gets you progressive growth once your ranking improves. If paid advertising will ensure you appear on page #1 compared to organically on page #2, this may mean your sales are 30% higher. Check out our A to Z guide to Amazon Advertising here.  
#3 Brand Development – helps to build trust and improves conversion. Available for both Vendor Central and Seller Central sellers with a brand registry, Enhanced Brand Content or A+ pages and Amazon Stores are the next levels of Amazon's development. If 56% of shoppers are visiting Amazon, then why not spend some more time developing your branded content. 
#4 Account Health – ensures your account is meeting customer needs. Amazon is very serious about its customer experience and it follows a very strict metrics policy. It is important to maintain good account health as this will help to grow your account. If your sales growth is 100% but you don't fulfil orders on time, you have a high chance of getting A to Z guarantee claims and negative feedback; which can ultimately result in a loss of buy box which means you won't be able to advertise your products, and worst-case scenario your account will be suspended. Check out this guide that covers all parts of Amazon Account Health.  
#5 Cross Border Trade – accelerates sales into different marketplaces with existing stock. Once you have some level of success in the UK, it makes perfect sense to take advantage of Amazon's fulfilment channels. With a single inventory system, listings can be transferred to other European channels to help you grow further.
For great success on Amazon, it is key to consider all of these growth points seriously. If you are looking for some help growing your Amazon account please do get in touch, with years of experience the Online Seller UK team can support in all 5 areas of your Amazon Growth. 
Why should I partner with Online Seller UK?
Over the years, we have worked across a range of different marketplaces and brands, on both Seller Central and Vendor Central. Here are just some of the businesses we have worked with:
"Prabhat has taken our Amazon account and brought it up to the level of sales we receive from Google Shopping. Initially, we were not sure what to do with it. With help and guidance, it is now functioning brilliantly. It looks like it is going to improve a great deal even from where it is now." – Graeme, Floorseal
DIY Category – 1200% increase in sales in the first month