As an Amazon Agency, we have extensive experience working with Sponsored Product Ads. Below we have put together FAQ's for if you're looking to grow your presence and revenue on Amazon using Sponsored Ads:

Why Amazon Advertising?
Amazon is one of the greatest digital successes in modern times with 310 million active Amazon customer accounts worldwide, 90 million of which are Amazon Prime members who spend an average of $1,300 per year on the platform, with the remaining 220 million non-Prime members spending an average of $700.
These numbers give enough confidence for any brand to launch and advertise products on Amazon. 
Is Amazon Advertising worth it?
55% of internet users directly start their shopping journey on Amazon, so to get your product placed on the top of the search pages raises brand awareness and conversion. 
What is Amazon's advertising strategy?
As an Amazon specialist agency, we have created 3 stages for Amazon Advertising.
Gain Market Share – This is the early stage of Amazon Advertising and the aim is to quickly gain market share. You'd explore and learn with Automatic Targeting ads, Manual Targeting Campaigns using Keywords, followed by targeting competitor brand names and ASINs. 
Increase Market Share –  At the second stage of advertising, our aim is to increase your market share and get sales which otherwise would not have been possible. We do this by targeting categories to get placement on competing for product pages and leverage display campaigns to enhance your brand awareness against competing products.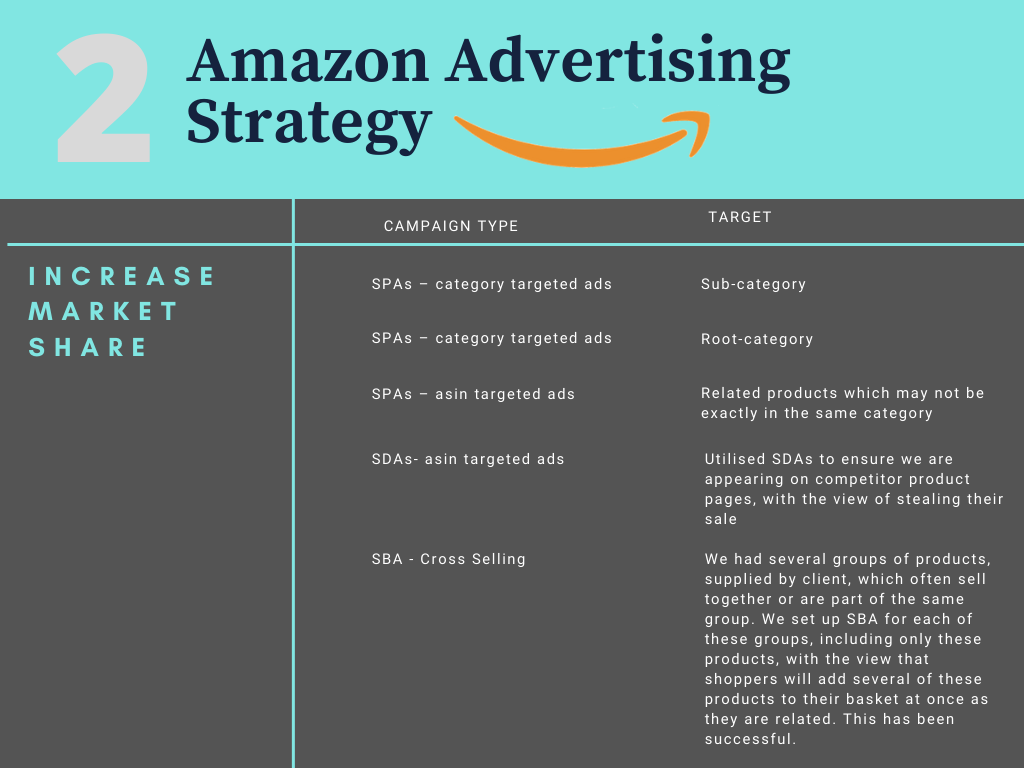 Keep Market Share –  At this 3rd stage of advertising, you'd defend product placement on Amazon pages and search results. We'd target your own brand name and target your own ASINs. By doing this there is fewer chances of other products appearing on your page.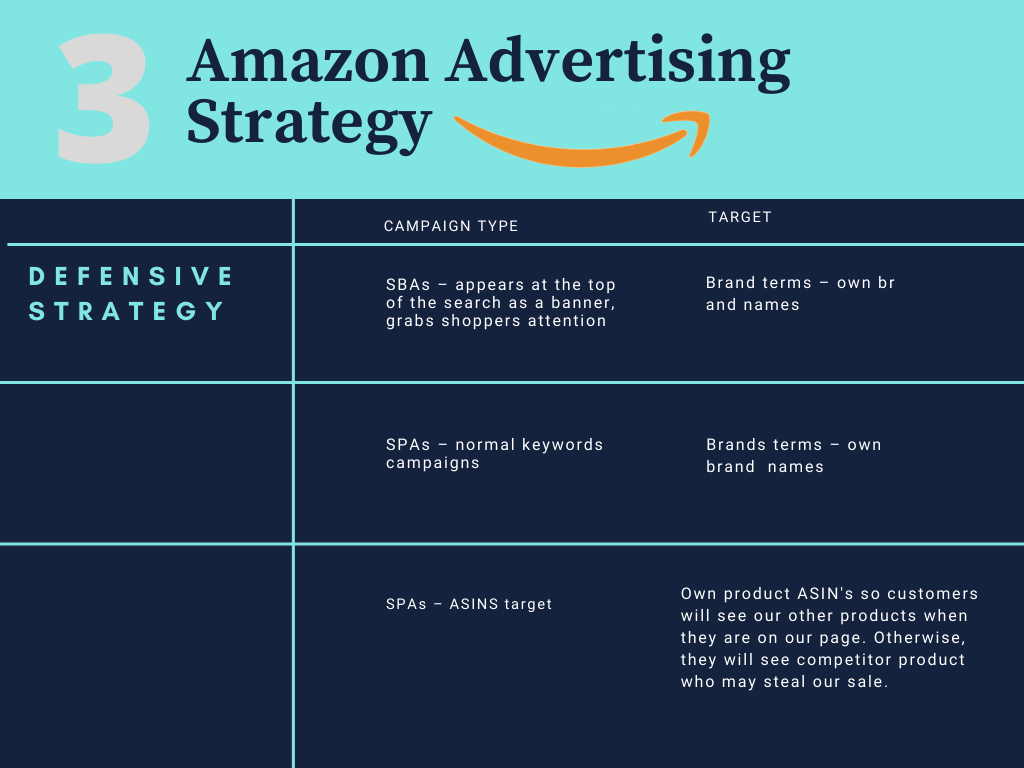 Amazon Advertising fees? 
Like Google, Amazon PPC is an auction and you will pay a penny over the next highest bidder. 
For example, if you bid £1 and the next highest bid was 0.80, then your CPC would be just £0.81 even though the highest bid was £1.00
CPC varies based on how competitive the category is. Here is the list of average CPC for the categories we manage.  Please note that sometimes being the highest bidder will have the best chance of winning top position on page 1 and this means your sales will grow quicker. So, it is a balancing act between increased sales and ROI.
How does Amazon Advertising work? 
Amazon advertising works on a cost per click model and you will pay for clicks rather than impressions. If you are one of the sellers on the page your advertising will only work if you win the Buy Box, the position that allows a customer to checkout with 1 click. 

Will Amazon disrupt the advertising ecosystem?
Amazon is growing and is now the number #3 advertising platform, after Google and FB. Its growth is rapid and threatens rivals like Google and Facebook. Amazon ad revenue is set to grow to $40 billion by 2023.  We can see this happening as some brands are already shifting upto 60% of their budget to Amazon. 

Is Amazon Advertising effective?
Just simply being listed on Amazon isn't enough anymore. It is becoming such a competitive marketplace and the need to stand out is higher than ever, which is where advertising comes into play. 
Advertising not only ensures your products are appearing in front of shoppers but also helps to drive sales. Increasing your sales will improve your sales history and ranking in search results. Which in turn will lead to further sales.
So in short, yes Amazon Advertising is very effective.
Does Amazon Advertising work for books? 
Advertising for books works for kindle publishing authors and amazon Vendor Central Accounts. 
It allows you to promote your book via keyword targeting, display your product against similar products and target readers by genre, titles and authors. 
Which one is right for me: Amazon Advertising or Google?  
It all depends on your business and products. If you are selling expensive brands then Amazon may not always work as it presents cheaper alternatives on search results and on your product page. If you are selling products in a similar price range of the market, let's take tech products for example, in this case Amazon may be the right option for you. 
It is always best to have some ad budget on both so you are building the sales on both channels rather than just one. Avoid putting 'all your eggs in one basket'.

Which one is right for me: Amazon Advertising or Facebook Ads?
Both of these are very different platforms, one is very personal that we use to keep in touch with friends and family, and another very impersonal that people use purely for shopping. 
With Amazon Ads, you attract people who are there purely with a shopping intent, so if you show up first then it is likely that you sell. With Facebook, your potential customers are seeing your product whilst browsing interesting stories or getting in touch with their loved ones. So, shopping intent is not there. 
Amazon has a highly qualified audience compared to Facebook, but Amazon's audience is limited. So, with Facebook, you have an opportunity to increase your reach. You can create ads to capture audience data which is not possible with Amazon ads. With Facebook, you have an opportunity to raise brand awareness which is non-existent on Amazon as they want shoppers to trust Amazon as a brand. 
Amazon may have a higher ROI compared to Facebook but you should include Facebook as part of our advertising strategy to see long term business growth.   
Amazon sponsored ads work well with the right strategies and regular optimisation and as a team of Amazon experts, we can do this for you. Contact us for any questions you have.