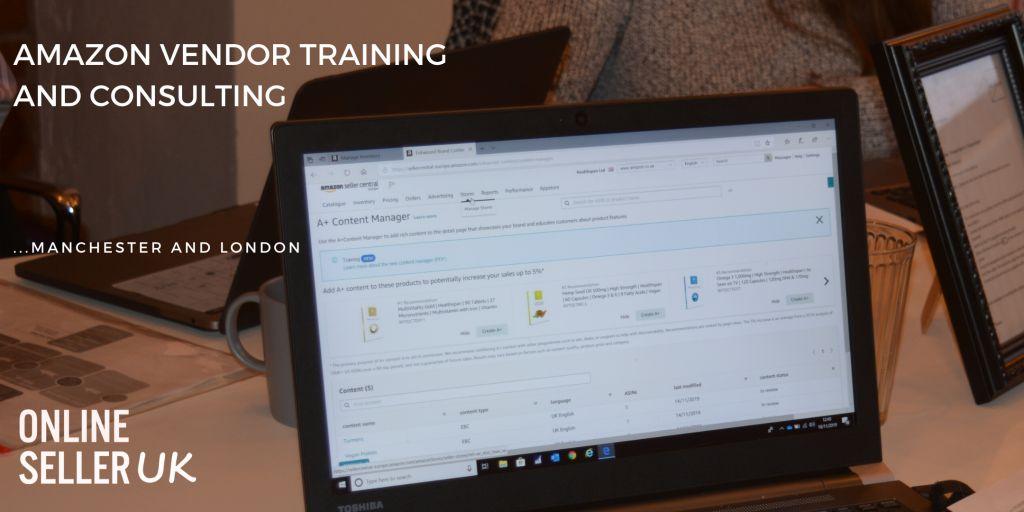 | Rachel Wedley, Sizzix
Prabhat has an incredible insight into Amazon, he shows both positives and negatives of Amazon and isn't biased toward being a seller or vendor. He's helped to build my knowledge on Amazon Advertising and also the SEO aspect of Amazon and how important it is that both of these are working in unison. Great course and I would recommend to anyone who wants to build or start their knowledge on Amazon!
---
Amazon Vendor Central is an invitation-only program whereby Amazon purchases your inventory at wholesale price and sells directly to customers. The program is available in the UK, Europe and USA. In countries like India, where Amazon cannot act as a Vendor due to regulations, Amazon uses a joint venture operation like Cloud India and it is becoming very powerful. 
If you have or are using Vendor Central, you'll already know how powerful the platform can be, and many brands are seeing it as one of the highest growing sales channels. Here's a snapshot of one of our client's annual sales:
With the Vendor Central platform, Amazon helps you to grow not only in the UK but globally, as they distribute your products without any need for you to handle product listings or customer support. This means no need to hire native speakers! This also means, if you are a Vendor in the UK, your products will be distributed in Germany, France, Italy and Spain. In all cases, you supply to Amazon UK. So, as a UK brand, you will find success in other countries without any input.
That being said, Vendor can be a confusing and frustrating platform at times, for example when stock gets returned, various chargebacks and when no orders are placed at the beginning. As it is a self-service portal, you are left to deal with any issues using Amazon's case management system; unless you have a Vendor Manager, which comes at a handsome sum per annum!
Whether you are already a Vendor or have an invitation, below are some of the key points that will help you succeed with Amazon Vendor program: 
Negotiation / Costs: When you negotiate your product costs with Amazon, consider your advertising costs and any promotion costs. Discuss additional costs such as marketing costs, returns allowance and damage allowance clearly. 

Content: Getting your content to the best you can is the key for your products to rank well. Spend time analysing what Amazon customers are looking for and adapt your product content. 
It is also important to review your content at all times. This is because your content may get changed without any warning. This generally happens when there are third-party contributions. Use tools like Copybox to monitor changes. 
Branding: Getting your brand message across is absolutely important. Amazon allows you to put your brand message out via

enhanced content like this

and your own

Amazon stores

.

  They are very straightforward to build once you spend some time on navigation.  

Advertising: Amazon Advertising can help you uplift sales massively. Spend time experimenting and optimizing.  One of our clients has seen a

350% increase in advertising sales

.
Hybrid strategy: it is still not very clear where Amazon stands on this, as we have worked with several brands who use both Vendor and Seller Central, and have never had an issue. Saying this, you should not risk your VC account. If you have one already, you can use SC account to your advantage during a product launch by sending a batch of products to FBA before to stimulate sales, and ultimately raise PO.

Review: Consider investing in Amazon Vine program if you don't have product reviews.  If you have an SC account, you can take advantage of the "Early Reviewer" program which is £60.00 per SKU and is far more cost-effective compared to the Amazon Vine program.
Reviews play a key role in increasing conversion and getting found on Amazon. So, invest early for long term growth.  
If you're looking to learn more about Vendor Central or Seller Central, with 10 years of Amazon experience we are well equipped to help you grow successfully on Amazon.  Recently, we were in the North West, Manchester, working with a Toys and Games Vendor Central User. The day was very productive, helping the client learn how to get the best out of the Amazon Advertising platform whilst keeping operational performance efficient.
So, if you are looking for an unbiased opinion and to create your own Amazon Growth Plan, get in touch to discuss your Amazon Vendor Strategies in 2020 or join our public training course in Manchester or London.