About 38% of UK shoppers start by searching for a product on Amazon.
Amazon has become the place to go for many shoppers, and this is because you can buy most things you need, and it will arrive the next day. With this rise in popularity, undoubtedly there is an increasing number of retailers, and now an increasing number of brand owners, distributors and wholesalers, who use Amazon to sell and advertise their products.
Consumers now have more choices than ever to look for various sellers, but for sellers, it is getting increasingly difficult to get found. This is where Amazon SEO and PPC play a huge role.
Amazon SEO involves creating a keyword-rich copy to get your products found, and PPC involves paid advertisement. Both of them go hand in hand and this course helps understand how SEO and paid ads help your products to rank well on product searches.
Amazon Pay Per Click (PPC) advertising is available for both Seller Central users and Vendor Central. They are a way for sellers to 'buy' a position at the top & the bottom of Amazon's search, the right-hand side margin, and on competing for product pages.
As a seller, it is a fantastic opportunity to increase visibility and sell more products. More importantly, Amazon's sponsored ads program is quite easy to handle, and the cost of sales can be as low as 5%.  In this training course, we will discuss how to build organic product ranking and how to get the best out of Amazon Pay Per Click (PPC) advertising.
ONLINE TRAINING: HOW DOES THIS WORK?
We have been delivering training courses throughout the UK for the past 5 years and the same courses are now available online. You can choose between a scheduled course or book a bespoke session for you or your team.
Each session is customised and well suited for individual or small groups. All sessions are practical and save you the cost and time of travelling.
– 4 hours live online workshop
– Delivered in a small group of 4
– Interactive sessions and you can ask questions
– Training content will be shared with you after your session
– 1-to-1 optional consultation after the course to answer any specific questions
WHAT WILL I NEED?
– Online conferencing set-up. We will send you the link to join the course.
– Speakers and a microphone
– OPTIONAL – A webcam
If you prefer to book online training other than the date scheduled, we can help with that too. Get in touch to discuss.
Who is this workshop suited to?
Digital Marketers, Seller Central Users, Vendor Central Users
Some key areas of the workshops are:
Amazon Search Engine Optimisation 
How Amazon product ranking works
Best practises for optimising product content
Amazon PPC Introduction
Introduction and impact of PPC
Sponsored products: basics and benefits
Exploring opportunities for your products
Campaign Structure
Basic Campaign structure
Best practices
Keyword Research and Best Practices 
Research processes
Amazon third party tools
 Creating Campaigns
Introduction
Keywords Types Broad, Phrase, Exact Match
Automatic Campaigns vs Manual Campaigns
Advertising Reporting
Understanding Amazon PPC Metrics
Creating plans to action reports
Analysing Search term reports and other ASIN reports
Optimising Campaigns Performance
Managing Bids
How to go about product variations ads
Negative keyword best practices
Leveraging Bid +
Harvesting keywords for the product copy
Other ASINs conversion and what can you learn from it
Optimising product copy with converting search terms
Amazon Marketing Services for Vendors Part 1
Introduction to Headline Display and Product display ads
Creating Headline Display Ads
A/ B Testing
Optimising Headline Display
Best Practices
Amazon Marketing Services for Vendors Part 2
Creating Product Display Ads
A/ B Testing
Optimising Product Display Ads
Best Practices
Prerequisites for this course
This course is aimed at digital marketers, seller central users, vendor central users and typically delegates have experience of using Amazon in some capacity. Please bring your laptop, this will allow us to make the session practical and tailored to your own account.
---
Just a few of the fantastic organisations who've attended our previous training.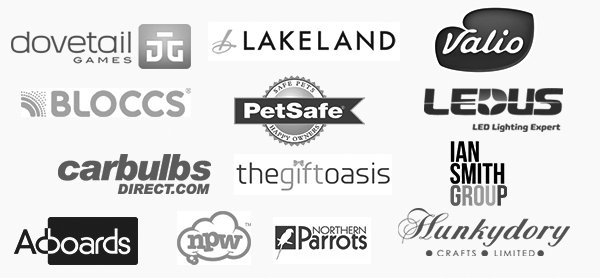 TESTIMONIALS  
| Dave Curtis, Fizz Experience Limited
I had the pleasure of being at one of Prabhat's training sessions covering an Amazon Masterclass. The session was extremely helpful and very interactive. Prabhat's ability to provide practical advice for even the smallest of issues seemed never ending. I would thoroughly recommend going to one of his training sessions or getting him to come and support you through your company growth.
| Marie Sinclair, Tazakifoods
Prabhat's Amazon training was detailed and tailored to suit our needs as a business. He was extremely knowledgeable and able to answer any questions that we had throughout the training session. As a company we learnt a great deal and I would not hesitate to recommend his services.
---
Looking for a bespoke online course? Get in touch to discuss:   0161 3272 923 or 0751 88 39629 
Please note by booking a ticket to this event, you agree to our event T & Cs  ( Please read )  
---
* Register as an Individual, if you are not VAT registered.