The Amazon Vendor platform has brought great opportunity and growth to lots of brands and manufacturers in the UK, and the same could apply to your business.
Amazon Vendor is the go-to platform for many brands and sellers aiming to expand online quicker, for many reasons. One is that you can shift high volumes of stock through Vendor; and two, it is important for brands to work with Amazon in order to get sustainable growth.
Recently, there has been growing use of the Amazon Hybrid Model, which is using both Seller Central and Vendor Central in parallel. But this strategy doesn't and won't work for everyone which is why in this 4-hour Amazon Strategy Session we discuss unbiased strategies that work for you.
If you have a seller central account, please visit Seller Central Amazon course.
** Multiple dates are available. Please check the registration section for details.
Who is this workshop suited to?
Manufacturers, Brand Owners, Digital Marketers
Some key areas of the workshops are:
Vendor Account vs Seller Central Account
How brands are using the hybrid strategy successfully
What's the future of Amazon vendor account
Operational best practices
Managing POs
Payments Chargeback, CoOp, Return & Shortages
Listing Products Process
Adding single and multiple products
Content and image alterations
Content optimisation best practices
Product listing best practices
Tools for choosing keywords
Using Google queries to create your product content
Product Promotions
Vouchers, Promotions, Lightning deals, Prime Day
Amazon product reviews
Best practices
Leveraging the Amazon Vine Program
Building your brand content on Amazon
Amazon A+ page best practices
Amazon Store design best practices
Amazon Retail Analytics (ARA)
Vendor Operational performance
Retail Analytics and forecasting
Amazon Advertising
Live Demo: Sponsored product ads, Product Display ads and Sponsored Brands
A / B testing
Advertising best practices
Campaign Structure
Basic Campaign structure
Best practices
Advertising Reporting
Understanding Amazon PPC Metrics
Understanding search term reports, product placement reports
Creating your own Amazon Advertising Plan
---
Prerequisites for this course
This masterclass is aimed at brand owners and manufacturers and typically delegates have experience of trading on Amazon in some capacity. Please bring your laptop, this will allow us to make the session practical and tailored to your own account.
---
Just a few of the fantastic organisations who've attended our previous training.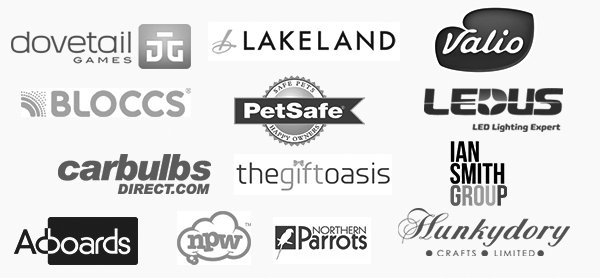 TESTIMONIALS  
| Dave Curtis, Fizz Experience Limited
I had the pleasure of being at one of Prabhat's training sessions covering an Amazon Masterclass. The session was extremely helpful and very interactive. Prabhat's ability to provide practical advice for even the smallest of issues seemed never-ending. I would thoroughly recommend going to one of his training sessions or getting him to come and support you through your company growth.
| Marie Sinclair, Tazakifoods
Prabhat's Amazon training was detailed and tailored to suit our needs as a business. He was extremely knowledgeable and able to answer any questions that we had throughout the training session. As a company, we learnt a great deal and I would not hesitate to recommend his services.
---
Can't make it to London or looking for a bespoke course? We are happy to provide onsite Amazon training to you and your team. Call us on   0161 3272 923 or 0751 88 39629  
Please note by booking a ticket to this event, you agree to our event T & Cs  ( Please read ) 
---
* Register as an Individual, if you are not VAT registered.