Amazon has certainly changed the online landscape in the last 25 years, with 86% of the Brits shopping on Amazon. Additionally, 70% of Amazon shoppers say it is the first retailer they go to when shopping online. 
Which is why Amazon is now not just an option for retailers and sellers, it is a necessity. But it isn't as smooth sailing and simple as becoming an Amazon Seller. There are many challenges to face whether you operate as a third-party seller (on Seller Central) or a first-party seller (on Vendor Central). No matter what type of seller or challenges you are facing, Online Seller UK's Amazon Growth Management team can help you!
If you are currently selling on Amazon, using a hybrid model, or you're thinking of starting with Seller Central, we can support both channels to help you grow your business.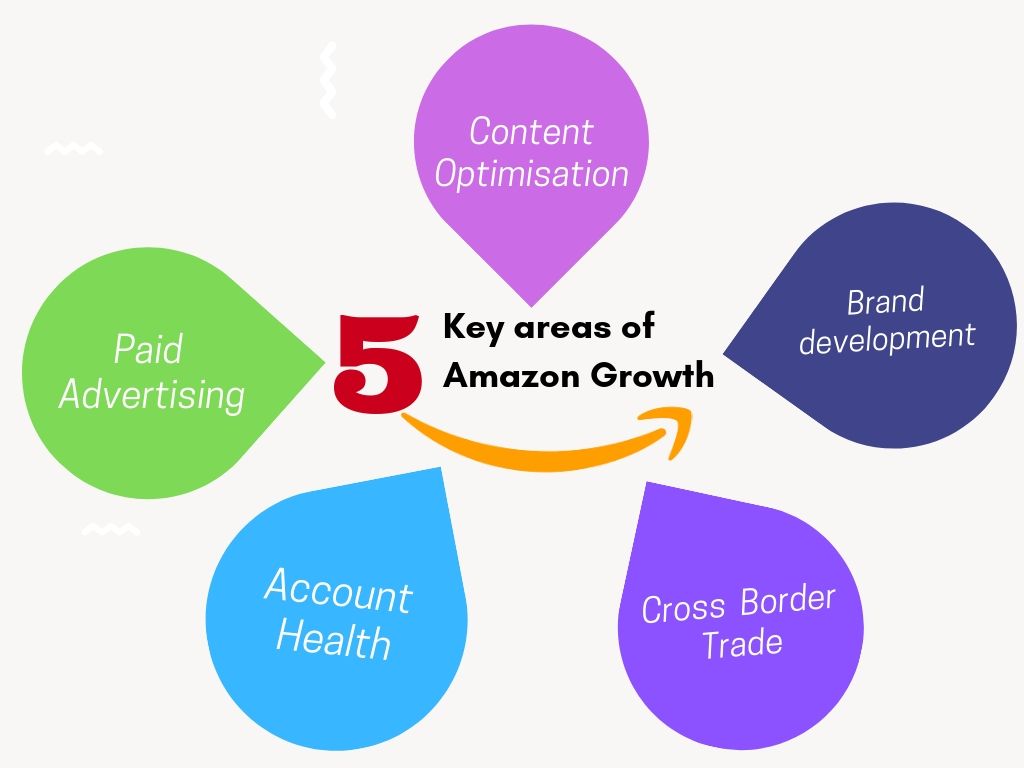 How does this work?
There are various parts of Amazon that support your growth, and they all work collectively.
1. Content Optimisation  – helps to improve organic rankings & generates long term growth
2. Paid Advertising – helps to accelerate initial sales growth and incremental sales
3. Brand development – helps to build trust and improves conversion
4. Account Health – ensures your account is meeting customer needs
5. Cross Border Trade – accelerates sales into different marketplaces with existing stock.
The Online Seller UK team can look into all 5 areas as part of our Amazon Growth Management offering.
Which Amazon Marketplace do you support? 
We provide services on Amazon UK, Germany, France, Spain, Italy, the US and Australian marketplaces – both on Seller Central and Vendor Central. We have our own team of experienced translators to manage non-English terriorirries. 
Are there other services you provide can help my business grow? 
Our account management clients can take advantage of our additional advertising services aimed at driving Amazon sales even further.  With our off-Amazon advertising add-on, our team will drive social ads (Facebook, Instagram) and PPC (Google) traffic to your Amazon listings and storefront.
Why should I partner with Online Seller UK?
Over the years, we have worked across a range of different marketplaces and brands, on both Seller Central and Vendor Central. Here are just some of the businesses we have worked with:

"Prabhat has taken our Amazon account and brought it up to the level of sales we receive from Google Shopping. Initially, we were not sure what to do with it. With help and guidance, it is now functioning brilliantly. It looks like it is going to improve a great deal even from where it is now." – Graeme, Floorseal
Case Studies:
DIY Category – 1200% increase in sales in the first month 
Work Safety Equipment – 350% increase in advertising sales
Home & Kitchen – 230% increase in Amazon.de advertising sales YOY
When is it right time to get us onboard?
We have a wealth of knowledge and experience across multiple categories. Over the past few years, we have helped 100s of businesses through our consultancy services. So, whether you are a new business or an established seller with millions in revenue, we will help you move forward with your sales growth. 
In the past, we have worked with sellers using the hybrid method. We have also worked with some sellers for just a few months, offering a hand to hold until their team is fully capable of taking it forward. Now, that's a very unique proposition!
What is the cost?
Every project is different and requires different strategies and time involvement. We will discuss your account requirements and present you with fixed costs to manage the account growth. 
We will create a full action plan once we reach an agreement. 
GROW YOUR AMAZON BUSINESS TO THE NEXT LEVEL – GET IN TOUCH