In the UK, the marketplace industry is dominated by Amazon and eBay – and Amazon is a huge force throughout Europe and the rest of the world. Selling on marketplaces can be a cost-effective way to attract new business as the marketplaces already have an active customer base looking for your products.
This is a two-part comprehensive course aimed at new and early-stage sellers.
The first part covers sourcing from China and logistics. This is a comprehensive, hands-on session delivered our in-house sourcing expert. Expect a high level of engagement and to get all of your questions answered.
Additionally, we have an Amazon Private Label Masterclass Facebook group for any general Q & A.
The second part gives you knowledge about getting the best out of the Amazon platform.
** Includes Refreshments, Lunch and Practical Notes
Who is it for?
Startups or early stage online sellers
What will you learn?
Part A – Sourcing from China
Where to start? – Finding suppliers, finding partners
Evaluating your supplier – Product certification, factory audits, sampling
Know your product – Materials, manufacturing process, testing, supply chain
Product Compliance – EU safety requirements, purchasing terms, payment
Shipping Goods from China – FOB, EXW, CIF
Avoiding manufacturing problems – Pre-production samples, production inspections,
pre-shipment inspections
Protecting your design or brand – How to register your intellectual property, Non-Disclosure Agreement (NDA's)
East meets West – Working with a cultural difference: building a long-term relationship
PART B – Getting the Best out of Amazon
Amazon Store setup FAQs
Getting Amazon category approval
Creating a new product listing
Listing existing products on Amazon
Amazon bulk listing via CSV file
Product listing best practices
How to get product reviews?
Amazon product launch best practices
Amazon policies and avoiding suspension
Amazon account health check
Using the business report to make strategic decisions
Product Merchandising – vouchers, lightning deals
Pros and cons – Retail arbitrage and drop shipping
Fulfilment by Amazon (FBA) A to Z
Amazon Sponsored Product Ads best practices
Amazon Global Selling – listing your products on Amazon EU and the USA
Shipping settings – UK and international
Prerequisites for this course
This course is aimed at Amazon sellers with a little experience of selling on Amazon though it is not essential. You will also need to bring your laptop and have access to your selling account.
Just a few of the fantastic organisations who've attended our previous training.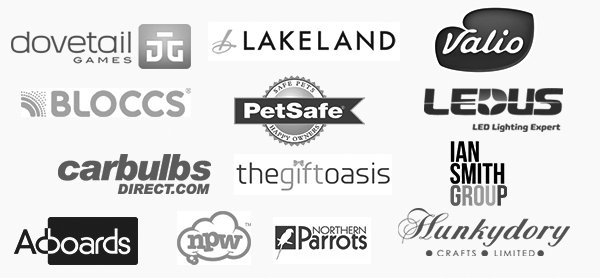 TESTIMONIALS
| Jonathan Harrod, Iain Smith Group
The course hugely informative, filled with great technical advice and it was demonstrated in a manner that was easy to understand, Prabhat always took the time to ensure the entire group understood the topic being discussed and clearly knows how to grow a business through Amazon selling.
| Dave Curtis, Fizz Experience Limited
I had the pleasure of being at one of Prabhat's training sessions covering an Amazon Masterclass. The session was extremely helpful and very interactive. Prabhat's ability to provide practical advice for even the smallest of issues seemed never-ending. I would thoroughly recommend going to one of his training sessions or getting him to come and support you through your company growth.
| Marie Sinclair, Tazakifoods
Prabhat's Amazon training was detailed and tailored to suit our needs as a business. He was extremely knowledgeable and able to answer any questions that we had throughout the training session. As a company, we learnt a great deal and I would not hesitate to recommend his services.
---
Can't make it to London or looking for a bespoke course? We are happy to provide onsite content marketing training to you and your team. Call us on 0161 327 2923 or 0751 88 39629
Please note by booking a ticket to this event, you agree to our event T & Cs ( Please read )
Getting here
GS1 UK is situated in the heart of the London, with Bank and Liverpool Street stations within a 5 minute walk.
Show on Google Maps