If you are an established eBay seller who is achieving or aiming fast growth, this masterclass is perfect for you.
We will explore several simple, easy to implement processes that we have proven to lead to increase sales and repeat business in the UK and through cross border trade. We will use real-life success stores and case studies to explain how this has worked for other sellers that we have worked with, and use your own eBay stores to demonstrate how to achieve this for yourself.
You will be equipped to return and implement the learning immediately, leading to increased sales and profits both here at the UK and also overseas thorough the global shipping program, and listing on multiple sites.
** Multiple dates are available, please details in registration section below.
Who should attend?
Marketing Professionals, Directors
What will you learn? 
Impact of the latest eBay changes
eBay product launch strategies
eBay private label opportunities
eBay SEO – Optimise your listings to get to the top of the best-match search results
Best practice in eBay listing design with latest eBay listing policy
eBay competitor analysis – turn knowledge into profits
eBay repricing for serious sellers
Product differentiation to get you ahead of the competitions
Effective use of eBay promotions and promoted ads
Using email marketing and remarketing
eBay sales reports and traffic analysis for strategic decision making
Maintaining your seller performance
How to achieve and retain eBay Top Rated Seller Status?
Expanding your business to European and global customers
Translations for cross-border trade (CBT) – automation vs manual
Which multi-channel tools are right for my business?
Exploring other sales channels beyond eBay
Creating your eBay sales growth strategies
Reliable product sourcing from the Far East
Introduction to tariff codes, import duty, taxes and restrictions
Prerequisites for this course
This masterclass is aimed at experienced eBay sellers and typically delegates have experience of trading on eBay in some capacity. Please bring your laptop, this will allow us to make the session practical and tailored to your own account.
---
Just a few of the fantastic organisations who've attended our previous training.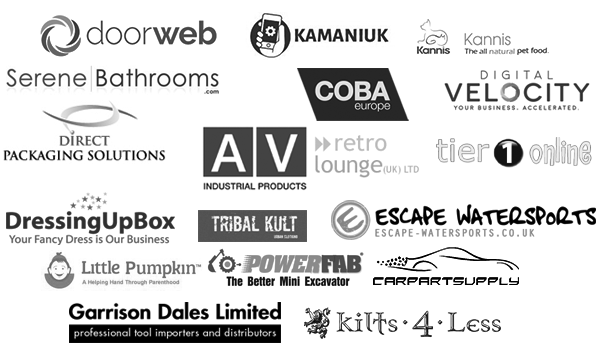 TESTIMONIALS   
| Jim Sweeney, Kilts4less
My first visit to Prabhat's training really got a lot from it i will be back will bring staff back with me The e bay Subject matter was in depth simple but detailed he covered about every important facet of it…. I went for a health check to see how I was doing and get what I was weak on sorted it did all of that and then some I have been selling on e bay for 15 years I found if more then value for money he knows his stuff 100% recommended.
| Rhoswen, Escape Watersports
So nice to have one to one training where the course is based on your own experience and Ebay store. Gave me loads of ideas on how to improve the store and the boost listings for better visibility. Thanks Prabhat
| Paras Saxena, Kannis
The Session was an eye opener for someone who is still struggling with what will work and what will not.Going beyond : Prabhat took interest in finding out what all the participants businesses were and gave them a tailored solution of what they were doing wrong and correct them by giving various tools.Finally Prabhat's genuine approach to problem solving was impressive.
---
Can't make it to Birmingham or looking for a bespoke course? We are happy to provide onsite eBay training to you and your team. Call us on   0161 3272 923 or 0751 88 39629 
Please note by booking a ticket to this event, you agree to our event T & Cs ( Please read )
---